As B2B e-commerce continues to grow, enterprise-level B2B e-commerce platforms are
becoming increasingly popular among businesses. These platforms can help businesses sell
their products and services online, manage customer accounts, and automate their order
fulfillment processes. But with so many options available, choosing the right platform can be
overwhelming.
Factors to Consider When Choosing a B2B E-commerce Platform:
Scalability: One of the most critical factors to consider is scalability. Businesses need a
platform that can accommodate a growing number of customers and orders without impacting
performance.
Integration: Integration with existing business systems such as ERP, CRM, and supply chain
management is essential to ensure seamless operations.
Security: Security is paramount for any e-commerce platform, and businesses must choose a
platform with robust security features to protect sensitive customer information and company
data.
Customization: Customization options are necessary to meet the specific needs of each
business. The platform should allow businesses to tailor their storefront and customer
experience.
Support: Good customer support is vital to ensure smooth operations and quick issue
resolution.
Leading B2B E-commerce Platforms:
Magento Commerce: Magento Commerce is an open-source platform that offers advanced features for B2B businesses. It is highly scalable and can integrate with various business systems.
SAP Commerce Cloud: SAP Commerce Cloud provides advanced functionality for B2B businesses, including real-time inventory management and personalized pricing. It supports multiple languages and currencies.
Oracle Commerce: Oracle Commerce offers a highly customizable storefront and flexible integration options. It provides a comprehensive suite of B2B features.
Salesforce B2B Commerce: Salesforce B2B Commerce provides personalized experiences for B2B customers, such as real-time inventory and flexible payment options.
BigCommerce: BigCommerce offers multiple storefronts, custom pricing, and automated tax calculation for B2B businesses.
Oro Commerce: Oro Commerce is a B2B e-commerce platform designed for mid-size to enterprise-level businesses. It offers robust features such as multi-website management and customer segmentation.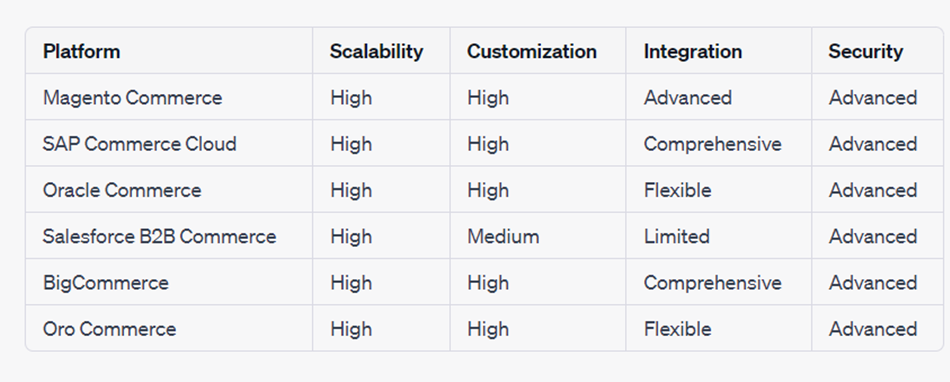 Choosing the right B2B e-commerce platform is crucial for businesses looking to expand their online presence and improve their operations. By considering scalability, integration, security, customization, and support, businesses can find the platform that best suits their needs. Magento Commerce, SAP Commerce Cloud, Oracle Commerce, Salesforce B2B Commerce, BigCommerce, and Oro Commerce are some of the leading platforms available in the market today. By choosing the right platform, businesses can take advantage of the growing B2B e-commerce market and provide their customers with an excellent online shopping experience.